Creative writer for hire!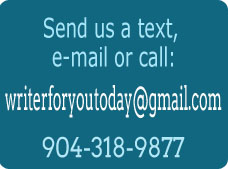 Article print
This is where the passion of our services truly lies. Whatever your topic may be, whether it's sports media or Wall Street play by plays, we can bring you the articles you're looking for. From music and movie reviews to books and magazine reviews, we love to write about your passions. Simply let us know your angle and what you're trying to convey and our freelance writer can piece the facts together to bring your ideas to fruition!
Free consultation: 1-904-318-9877
Don't leave it to chance to assume your work is perfect. We assume we wrote things when very often we omit characters and plague our writing with grammatical errors that can detract colleagues or clients away from our services. Let us proofread your work to enhance your writing and make it more effective as well as enhance the quality of your work. Grammatical errors are nothing to be ashamed of, but in today's busy world, it's almost impossible to review your work as soon as it's finished. A second set of eyes to ensure intent is captured, correct term usage is utilized and proper grammar is in place will take your writing to the next level.
Professional writer specializing in both fiction and nonfiction copy text. We provide article and magazine editing and copy text services at your disposal!
We also oversee reviews and articles on many blogs in numerous topics including music, sports, gossip, and celebrity drama for editing purposes as well as copy text content.
Book writing
Have a screenplay or book that's struggling to capture intentions?

If you're working on a memoir or inspiring tell all and need that ghost writer to capture your story, let us help! We're willing to commit the time it takes to make sure your work is presented in the format you intend to present. Whether it's your life story, documentary or detailed autobiography, we can help ensure we get the facts straight as well as capture the intent of your motives. There's nothing we'd love more than to commit to a strong project and connect with your story to ensure its presented in the most logical sense to share it with your audience.

Need MLA formatting and proofreading assistance?

If you have a new business that's in need of a mission statement, writing a book that needs a blurb, posting an article that's missing content, or are writing a paper that needs direction, we can assist in taking you from start to finish. From brainstorming direction and concepts, to editing and proofreading, we provide the best rates for your projects.